psoriasis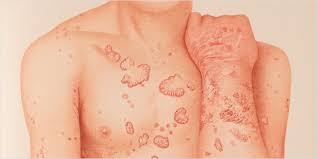 Psoriasis is among the most widespread chronic frequently recurring diseases of the skin. According to different authors, it accounts for 3-5 to 7-10 per cent of the total number of skin diseases
PSORIASIS – its polyeatiologic, systemic, chronic frequently recurring diseases of skin and characterize monomorphic, papulas eruptions
Winter type - exerbation of the diseases presence in winter season
Summer type - exerbation of the diseases presence in summer season
Undifferential type - not depends from season
Vulgaris form includes the following type:
Infiltrative
Dry
Monomorphic, papular eruption (the epidermodermal psoriatic papule is pink of various intensity: the fresh lesions are brighter (even red), while the older ones are bleaker)
At first the papules have a regular round contour and a diameter of 1-2 mm.
With advancement of the process, the psoriatic papules spread to the periphery, grow in size and form plaques often large in size and of fantastic shapes. Quite often a patient may simultaneously have papular lesions of various size and psoriatic plaques.
The silver-white scales (the silver colour is due to the presence of air bubbles) cover the surface of papule which scrape off easily
On fresh papules the scales are found in the centre leaving a narrow bright band on the periphery. Later the scaling intensifies and occupies the entire surface of the lesions .
Symmetrical eruption, mainly localized on the extensor surfaces of the limbs
Psoriasic rush may occur on any area of the skin (genital organs, mucous membranes, ear region) and joints
Presence of psoriasis triad and Koedber's phenomenon in progressive and same times in stationary stage
Systemic therapy
External therapy
Physiotherapy
Cytostatic drags and immunodepressant (metatrexsat, cylosporin A)
Aromathic rethinoids (tygason, roacutan)
Vitamins and Ko-ferments, ferments (A, C, E, B1, B2, B6, B12, B16, nicotinic and folic acids)
Immunosuppressant (pyrogenal, derinat, licopid)
Sedative drags (extactus valeriane, persen)
Angiotrophic drags (trental, cavinton)
Antihistamines drags (klaridol, suprastin)
Hyposesitives agents (intravenous infusion of calcium chloride, calcium gluconate or sodium hyposulphate solutions)
Glucocorticosteroids therapy and microelements (triamcinolone, prednisolone or methylprednisolone)
Non steroid antiinflammation drags (indometacin, ortophen)
Physiotherapy is used in stationary stage of psoriasis.
It includes ultraviolet rays (not in the progressive stage), indirect diathermia.
Photochemotherapy (PUVA-therapy) has recently been applied with success in psoriasis. The method is based on the combination of oral photosensitizing agents (8-methoxypsoralen syn. Methoxsalen, beroxanum, psoralen, amyfurin) and irradiation with ultraviolet rays of a wavelength of 320-400 nm.
Treatment at spa and health resorts and balneal therapy (sulphurated hydrogen, radon, and natural brine baths) are indicated.
by col3neg
published Date 2017-03-21