Sri Lanka to accelerate initiative aimed at attracting 5 million tourists annually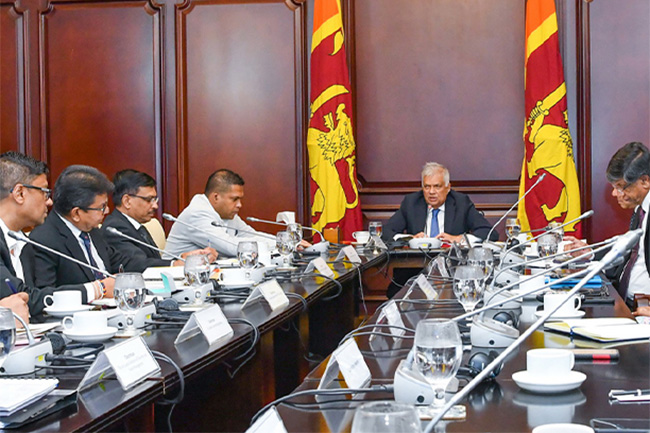 President Ranil Wickremesinghe on Thursday (Aug. 17) gave directives to accelerate efforts towards the goal of attracting 5 million tourists annually to Sri Lanka.
These directives were issued during a meeting at the Presidential Secretariat, where he engaged with a committee responsible for assessing the progress of Sri Lanka's tourism industry enhancement program and proposing measures to establish the country as a prominent tourist destination, the President's Media Division (PMD) said in a statement.
During the discussion, comprehensive plans spanning short, medium, and long terms were thoroughly deliberated upon to enhance Sri Lanka's appeal and comfort for tourists.
When President Wickremesinghe inquired about ongoing plans and the role of the private sector in promoting the nation's tourism industry, the officials have briefed him on the current initiatives and emerging trends.
According to the recommendations set forth by the committee tasked with establishing Sri Lanka as a leading tourist destination, the Ministry of Tourism and its affiliated bodies are formulating a strategic plan up to 2025. Remarkably, 95% of this plan has already been completed, the PMD said further.
President Wickremesinghe further directed officials to identify a suitable location, in collaboration with the private sector, for the establishment of a high-class hotel school in Sri Lanka.
To enhance lodging options for tourists visiting Sri Lanka, the President issued additional directives. Officials have been tasked with investigating and compiling a report on currently unused buildings and historic bungalows. Additionally, they are to explore a program to unearth unexplored destinations and conceive new projects in tourist-centric areas.
With the aim of fostering a favourable investment climate, the President's plan involves the establishment of an Investment Infrastructure Corporation, alongside the formation of a decision-making council. Emphasizing the significance of Provincial Tourism Boards across all 09 provinces, the President advocated for the creation of regional committees under each board.
Minister of Tourism and Lands, Mr. Harin Fernando, revealed that several tourism promotion initiatives have been devised in anticipation of the forthcoming Asian Cup. He highlighted the unexplored potential in Central and Uva provinces, particularly in the Central Province where air quality remains pristine. Minister Fernando proposed developing this province as a sustainable tourism hub.
Addressing congestion issues at airports and parks, Minister Harin Fernando underscored the focus on enhancing visitor amenities.
by Ada Derana
published Date 2023-08-19